SHE THEN TURNED AWAY | CURATED AND BASED ON A SHORT STORY BY JAMES SALOMON | CAROL COREY FINE ART | JUNE 10 – JULY 9, 2023
OPENING RECEPTION | JUNE 10, 2023 | 5 – 7 PM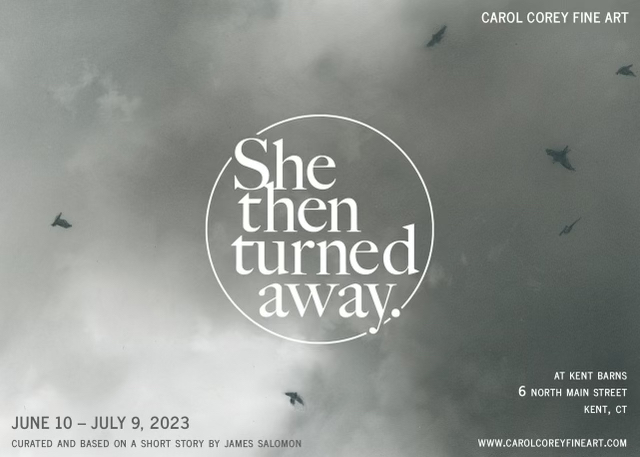 SHE THEN TURNED AWAY
CURATED AND BASED ON A SHORT STORY BY JAMES SALOMON
CAROL COREY FINE ART
JUNE 10 – JULY 9, 2023
"Loneliness can be unbearable, especially when we are not alone. It had been a long, rugged journey, she dropped her bags on the rug to sit on the sofa. It was the second Saturday of the month, and he was at the flower market. The children were at camp. A steely breeze came off the lake and in through the window.
Normally all of these elements would invoke a calmness within, but with all that has happened, she couldn't help but stare into the distance as gentle tears rolled down her cheeks. After a good moment, she began to turn her head slowly around the room. The furniture, the paintings, the objects… each piece was deeply embedded into her worldliness, her many lives. Objects sometimes keep us warm with the memories that glow within…."
The exhibition opens Saturday June 10th at 10am and there will be a reception from 5 to 7pm.
Gallery hours: Thursday – Sunday, 11am to 5:30pm.
ARTISTS: 
Achille Salvagni, Alexis Rockman, Barry Blitt, Cynthia Wick, Dozier Bell, Fabio Gnessi, Fitzhugh Karol, John Gordon Gauld, Kara Walker, Mark Mennin, Ned Smyth, Nicholas Howey, Richard Pasquarelli, Roz Chast, Tim Nighswander, Tina Scepanovic, Toni Ross, and William Stuart.
With furniture and objects from Maison Gerard and Achille Salvagni Atelier's Aldus Collection.
ABOUT JAMES SALOMON
James Salomon got his start in the art world with Mary Boone Gallery from 1999 to 2009. In 2005 he simultaneously opened Salomon Contemporary Warehouse in East Hampton, NY, a summer exhibition space dedicated to regional and international artists. He continued his program from 2010 to 2016 as Salomon Contemporary Gallery in Chelsea. He has curated in the Connecticut / Berkshire region with 3 exhibitions at the Judy Black Memorial Parks and Gardens in Washington Depot in 2016-2017, then an outdoor sculpture exhibition at the Berkshire Botanical Garden in Stockbridge, MA, in 2018. Salomon has collaborated with Maison Gerard on several projects, since their first at Art Dubai in 2008. He occasionally writes and takes photographs for art and lifestyle publications like Artnet, Galerie, Whitehot Magazine for Contemporary Art, XIBT Magazine, and C&G Publications.
ABOUT MAISON GERARD
Maison Gerard was founded by Gerardus A. Widdershoven in 1974. The gallery quickly established a reputation as New York's premier source for fine French Art Deco furniture, lighting, and objets d'art. In addition to presenting important works of Jean-Michel Frank, Emile-Jacques Ruhlmann, and Maison Leleu, the gallery has become instrumental in building numerous public and private collections. In the late 90s, Benoist F. Drut joined Maison Gerard as a partner and began broadening the gallery's scope to include both mid-century and contemporary designers. His mission to collect a body of work as well-grounded in the past as it was keenly attuned to the future. Today, Maison Gerard exhibits a range of work – from French Art Deco and antiques to contemporary lighting, sculpture, and ceramics – with an emphasis on authenticity historical context, and expertise.
ABOUT CAROL COREY FINE ART
Carol Corey Fine Art was established in the spring of 2020 when Carol Corey relocated from new York City to Kent, CT. On December 5, 2020, the gallery opened in Kent Barns, CT. Prior to her move to Connecticut, Carol worked with her friend and business partner Renato Danese in the operation of their gallery Danese/Corey in Chelsea, NYC. Sadly, Renato passed away in April 2020 and the gallery subsequently closed its doors. With over 30 years experience in the field of contemporary art, Carol Corey focuses on a select group of artists, many of whom she worked with in New York. She also continues to offer advice and assistance to new and experienced collectors in the acquisition of contemporary paintings, works on paper and sculpture.