Threading The Needle | The Church | June 30–September 18, 2022
OPENING RECEPTION | JUNE 30, 2022 | 6–8 PM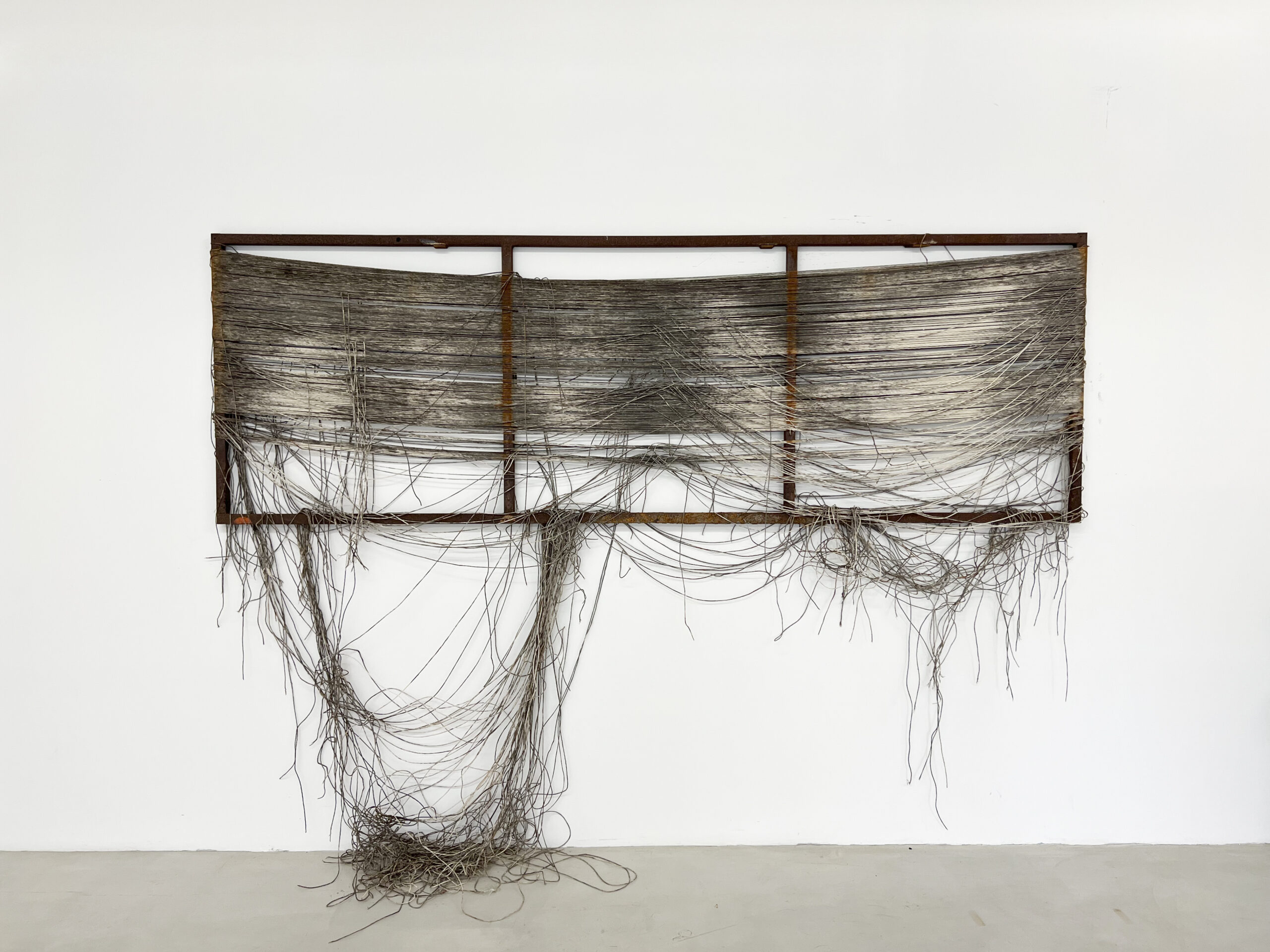 TONI ROSS, Time and Again II, 2021, hemp twine, steel armature
Toni Ross's Time and Again II is featured in the group exhibition, Threading The Needle, at The Church in Sag Harbor, NY from June 30–September 18, 2022.
Press Release:
The Church is pleased to present Threading the Needle, an exhibition of work by contemporary artists using fabric and fiber practices, curated by Sara Cochran and Eric Fischl. The exhibition will run from July 1st – September 18, 2022.
The exhibition features 46 works by 50 artists and includes a large-scale, site-specific work by Sheila Pepe, installed hanging from the building's rafters, the first time an artist has worked specifically with the historic architecture of our building. The show was planned around four themes. The first focus explores the Body and its Distortions and highlights a Soundsuit by Nick Cave, a vitrine by Louise Bourgeois, figurative tapestries by David Enrico, Christine Forrer, and Erin Riley, a bonnet by Angela Ellsworth, sculptural works by Thomas Friedman, Charles LeDray, James Lee Byars, and Liza Lou, as well as a monumental piece by Daniel Lind-Ramos.
The second theme is that of Politics and Identity that includes Margarita Cabrera's potted desert plants made from border guard uniforms, Dink Q. Le's interwoven photographic images of films about the Vietnam War and from the War itself, Charles McGill's assemblages of golf bags that recall Guston's paintings of the Klu Klux Klan, fabric pieces by Judy Chicago, Faith Ringgold and Hank Willis Thomas, a handkerchief by Ann Morton, tapestries by Tabitha Arnold and Diedrick Brakens, and sculptural installations by Christa Maiwald.
The third section explores the idea of Webbing, beginning with a brass spider's web by Jim Hodges, a bottle cap tapestry by El Anatsui, a Coke tab work by Alice Hope, a bead and ceramic wall piece by Maria Nepomuceno, a hanging pieces by Ernesto Neto and Julianne Swartz, a tapestry woven between a tree branch by Candace Hill-Montgomery, wall pieces by Toni Ross and Tomas Saraceno and a woven sculpture by Alan Saret.
The last part of the checklist explores Stitching and includes tapestries by Etel Adnan, Helena Hernmarck and Rosemarie Trockel, a printed piece using tapestries by Louise Eastman, cloth pieces by Bastienne Schmidt and Alan Shields, embroidery by Mark Olshansky, and an altered, appropriated tapestry by Lucy Winton.
The compelling works gathered for this exhibition question and blur the artificial boundaries between fine art and craft as well as between genres historically associated with feminine or masculine roles. By tapping into the rich historical vein of traditionally handmade crafts, contemporary artists have, in greater numbers, been adapting and utilizing techniques derived from tapestry, weaving, embroidery, beading, quilting, and knitting that have profound effects on the meaning and aesthetics of their work. In counterpoint, craft practitioners have taken up the conceptual mantle of contemporary art to imbue their legacy materials with a new resonance. Artworks in this exhibition expand an aesthetic conversation into the realms of fashion, design, politics, race, gender identity and technology. From intimate scaled works to immersive site-specific installations, these works reinterpret the histories of art and fabric and add nuance to principles of contemporary art. Questions of the interplay between skill, technique and concept are at the center of this exhibition, challenging a cultural hierarchy that has traditionally privileged painting and sculpture and has valued certain skill sets while disregarding others.
The artists in the exhibition come from America, Africa, Europe, and South America. They create work that is figurative and abstract, large, and small, sculptural, and architectural, as well as playful and serious.
Eric Fischl stated: "So much of how we think about or describe the aspects and conditions of our lives and our community use fabric, fiber, thread as metaphors to help us understand who we are and where we are. It is our culture that weaves us together. We know that our beliefs and values can become tattered and worn. In moments of great stress, we might feel we are only holding on by a thread. What we have done or not been able to do forms the tapestry of our lives. The joys and struggles we experience touch the very fiber of our souls. Society, family and even our sense of self are all about building and maintaining a network of connectedness. These knots, these ties that bind, with all their care and complexity is at the heart of our exhibition, Threading the Needle."
Chief Curator Sara Cochran added: "This is going to be an opportunity for our visitors to see some work they may know in a new light and discover other artists who are dealing with the essential questions of our time. The exhibition explores what happens when the conceptual approaches of art and the skills involved in fabric practices come together and produce artworks that challenge expectations in the arenas of art and craft, changing both fields. The work of these extraordinary artists is going to transform the building and surprise the public. There are going to be a lot of interesting and fun conversations this summer at The Church!"
Artists in the show include: Etel Adnan (Lebanese-American, 1925 – 2021), El Anatsui (Ghanaian, b. 1944), Tabitha Arnold (American), Louise Bourgeois (French-American, 1911-2010), Diedrick Brackens (American, b.1989), James Lee Byars (American, 1932-1997), Margarita Cabrera (Mexican-American, b. 1973), Nick Cave (American, b.1959), Judy Chicago (American, b.1939), Chuck Close (American, 1940-2021), Enrico David (Italian, b.1966) Angela Ellsworth (American), Louise Eastman (American, b.1966), Christine Forrer (Swiss- American, b.1978), Thomas Friedman (American, b.1965), Helena Hernmarck (Swedish- American, b.1941), Candace Hill Montgomery (American, b.1945), Jim Hodges (American, b.1957), Alice Hope (American), Mike Kelley (American, 1954-2012), Laurie Lambrecht (American, born 1955), Dinh Q. Lê (Vietnamese-American, b.1968), Charles LeDray (American, b.1960), Daniel Lind-Ramos (American-Puerto Rican, b.1953), Liza Lou (American, b.1969), Christa Maiwald (American), Charles McGill (American, 1964-2017), Ann Morton (American), Maria Nepomuceno (Brazilian, b.1976), Ernesto Neto (Brazilian, b.1964), Mark Olshansky (American), Sheila Pepe (American, b.1959), Erin M. Riley (American, b.1985), Faith Ringgold (American, b.1930), James Rosenquist (American, 1933-2017), Toni Ross (American), Tomás Saraceno (ArgenTnian, b.1973), Alan Saret (American, b.1944), Bastienne Schmidt (German-American, b.1961), Alan Shields (American, 1944-2005), Kiki Smith (German-American, b. 1954), Julianne Swartz (American, b.1967), Rosemarie Trockel (German, b.1952), Hank Willis Thomas (American, b.1976), and Lucy Winton (American, b. 1956).
About THE CHURCH
Housed in a deconsecrated 19th century Methodist church, The Church is an artist residency, exhibition space, and creativity center. It is a place where local and national artists and creatives of all stripes work, meet and inspire each other. Artists Eric Fischl and April Gornik bought the building as a shell three years ago and have led its redesign with Skolnick Architecture + Design Partnership. The modern interior complements its historic frame and is emblematic of the contemporary program of events that animate the structure. The Church will increase access to the arts for our diverse audiences, foster creativity on the East End, and honor Sag Harbor's long tradition as a maker's village.